BACK
Inclusive Thriving Community
Building confidence and community through surfing experiences
Ocean Heroes Ltd. aims to break down emotional and social barriers experienced by those living with autism spectrum disorder through the delivery of free and low-cost surfing workshops and events. In these activities, children build their confidence and participate in outdoor exercise that can reduce the severity of sensory and repetitive behaviours.
Grant Goal
Towards equipment to support outdoor activities for children and young people with autism spectrum disorder, enabling active participation in community life.
Organisation
Ocean Heroes Limited
Total project cost
$30,149
Funder Contribution
$26,144
Region
Perth and Metro Area
Beneficiaries
Children (12 years and under), Young people (aged 13-17), People with disability
Primary Outcome
Vulnerability and disadvantage is reduced across our community
Secondary Outcome
More Western Australians are mentally healthy
Wellbeing Area
Inclusive Thriving Community
Focus Areas
Sport & Recreation, Physical disadvantage
What worked?
Strategic identification and purchase of equipment allowed Ocean Heroes to evolve their programs into year-round offerings.
What we'd do differently
The growth of the program was larger than anticipated at the time of the grant application. With hindsight, planning for larger growth would have helped to further strengthen the organisation.
Opportunity
Participation in sport at all levels and abilities makes an important contribution to individual and community health and wellbeing. In addition to health benefits from increased physical activity, sport is a forum for creating social capital through connectivity and resilience [1].
Participating in group sporting activities has unique challenges for children with autism spectrum disorder (ASD). This results in fewer opportunities for these children to develop self-confidence, make genuine connections and improve physical and mental health.
Since 2016, Ocean Heroes has grown significantly through the delivery of free programs. Between 2016 - 2019, these programs provided up to 1,000 people on the autism spectrum with supported access to the ocean each year. Feedback from participants and attendee numbers confirmed the value of these sessions and demonstrated a demand to provide more regular opportunities for the community to enjoy the ocean throughout the year.


Approach
Building on the success of group events, Ocean Heroes developed a 60-minute Surf Experience & Awareness program, providing one-on-one lessons that focussed on developing confidence, skills, fitness and safety in the surf. To deliver the one-on-one program, Ocean Heroes needed support to broaden the range of surfboards and wetsuits available for participant use, as well as beach shelters to provide shade for participants, their families, and carers on the beach.
The new equipment would enable delivery through winter months, increasing the number of children Ocean Heroes could work with throughout the year, as well as offer consistency of programming. Additionally, the broader range of equipment and styles available would present the opportunity for each experience to be bespoke to the needs of individual participants with ASD in a safe and comfortable manner.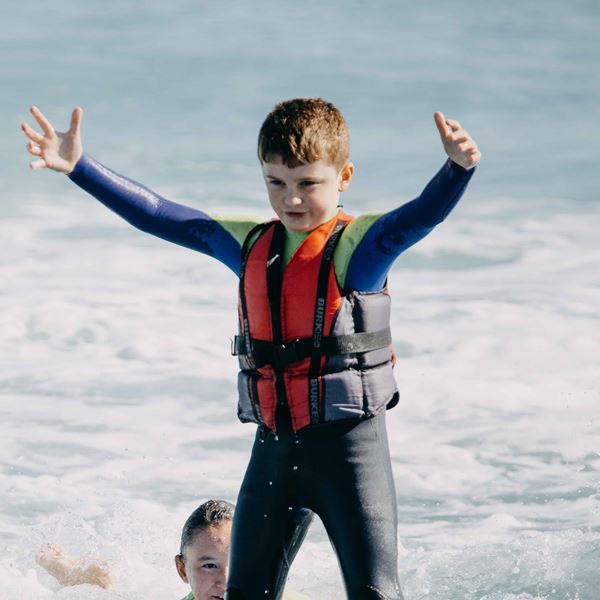 Impacts and outcomes
The Lotterywest grant allowed Ocean Heroes to purchase the equipment needed to increase the number of activities offered to young people with ASD and their families. Since the Surf Experience program started, more than 4,000 sessions have been delivered in Perth and Geraldton. In 2022 alone, more than 2,000 one-on-one sessions were delivered.
Not only has the opportunity for social and community engagement expanded, but Ocean Heroes have watched participants going from lacking confidence and needing significant support, to being able to surf independently on a small surfboard. These skills of independence and confidence transfer to everyday life to help young people with ASD take on challenges at home and school.
Since the grant concluded, Ocean Heroes has been registered as a provider with the National Disability Insurance Scheme, and they've expanded their geographic reach to include group events in Albany, Broome, Denmark, Esperance, Geraldton and Margaret River.


"Adam had his first one on one surfing experience about 2.5 years ago. He always loved the beach and ocean, but was very scared and anxious to get into the water. The first few lessons Adam spent mostly on the beach building sandcastles as he refused to get into the water or get his hair wet.
As parents we questioned if surfing is a good idea as Adam's anxiety was through the roof, however we persisted, and I am very grateful we did. Over the following 10 weeks, every weekend we noticed changes. Slowly, Adam was happy to get into the water, sit on the surfboard and eventually stand up with the assistance of the instructor. And even fall off the board! His anxiety has slowly disappeared and all week after the session, he cannot stop talking about how much fun he has at his surfing lessons.
Over the time, Adam has made so many friends with the other participants and built great relationship and rapport with all the instructors. As for us parents, attending the weekly surfing sessions is great too. We have met other parents who are in the same "boat" as us and we all share different tips and tricks.
Adam says that Ocean Heroes are his second family and one day, he will be a volunteer passing his knowledge to other children attending."
Michaela (parent) on her son Adam's experience with Ocean Heroes



What worked
Equipment facilitated year-round participation
Strategic identification and purchase of equipment allowed Ocean Heroes to evolve their programs into year-round offerings in Perth and Geraldton. Warmer wetsuits allow the young people Ocean Heroes works with consistent access over the winter months, increasing community participation and confidence building for participants.



What we'd do differently
Planning for long term growth is hard to anticipate
The growth of the program was considerably larger than Ocean Heroes expected at the time of the grant application. With hindsight, planning for larger growth would have helped to strengthen the organisation, and resulted in the purchase of more wetsuits and surfboards.


Acknowledgement of Country
The Western Australian Community Impact Hub acknowledges and pays respect to the Traditional Owners of the land on which we are based, the Whadjuk people of the Noongar Nation and extends that respect to all the Traditional Owners and Elders of this country. We recognise the significant importance of their cultural heritage, values and beliefs and how these contribute to the positive health and wellbeing of the whole community.