Wellbeing in WA
Understand your community
Find out about wellbeing in your community
In this section we provide an overview of wellbeing in Western Australia (WA) and some free tools to help you find data on wellbeing in your community. We also explain how wellbeing connects to Lotterywest and Healthway's Community Investment Framework.
Wellbeing in WA
Find out more about the state of wellbeing in WA by exploring the five wellbeing categories. Learn about how WA is performing against key indicators and use this information to help plan your project. Choose an area below to get started:
Track your Community
Use the Community Insight Tool to help you explore the latest publicly available data in WA. This tool is ideal for understanding your community's unique context and state of wellbeing.


How to use the Tool
Simply choose a location and click on the data you're interested in. This free, easy to use tool can help you understand how your community is tracking compared with other communities in WA through visual heat-maps and dashboards.
Read our Community Insight Australia manual.
Please note that this is a public version of the tool and as such has limited functionality. If your organisation is interested in exploring more features via a subscription, please visit https://communityinsightaustralia.org/.
You can download a report on each of the Lotterywest Healthway Regional Development Commissions below.
Open the Community Insight tool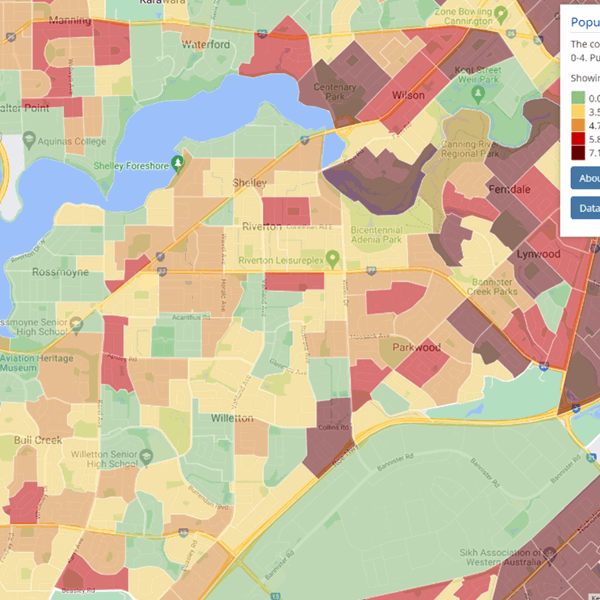 Profile Reports
Download and print profile reports for each of the Lotterywest Healthway Regional Development Commissions and the State. These profile reports show how each area fares on key indicators. Reports were generated via Community Insight Australia on 15 March 2023.
Acknowledgement of Country
The Western Australian Community Impact Hub acknowledges and pays respect to the Traditional Owners of the land on which we are based, the Whadjuk people of the Noongar Nation and extends that respect to all the Traditional Owners and Elders of this country. We recognise the significant importance of their cultural heritage, values and beliefs and how these contribute to the positive health and wellbeing of the whole community.