BACK
Inclusive Thriving Community
Empowering communities through school engagement and yarning
Shooting Stars is an education engagement program that works to empower Aboriginal girls, women, and their communities. The program provides a holistic, community-led, trauma-informed model to support Aboriginal girls by strengthening their confidence, cultural identity, health, wellbeing, and positive attitudes towards school. Shooting Stars operates within host schools across regional, remote, and metro communities in Western and South Australia.
In remote Australia, Indigenous girls are statistically less likely to graduate year 12 than their non-Indigenous peers. Shooting Stars is on a journey to change this, combining advocacy and support, motivators, engagement activities, and health and wellbeing sessions as they empower Aboriginal girls and young women with the knowledge, tools, and self-determination to make healthy and informed decisions for themselves.
The uniquely Aboriginal methodology of yarning is implemented to collect research, feedback and recommendations that inform everything Shooting Stars does. By yarning with participants, families, school staff, Elders and community members, Shooting Stars can constantly make improvements to the programs, ensuring they are relevant and truly empowering at each Shooting Stars site.
Grant Goal
Towards transport, resources and project costs to improve the educational and wellbeing outcomes for Aboriginal girls in remote and regional WA.
Organisation
Glass Jar Australia Limited
Total project cost
$1,103,000
Funder Contribution
$999,200
Beneficiaries
Aboriginal and Torres Strait Islander people, Children (12 years and under), Young people (aged 13-17)
Outcomes
Improving positive attitudes in participants towards education, health and wellbeing, and future education opportunities.
Embedding Shooting Stars in communities, engaging families, local service providers, schools and communities in program activities.
Empowering Indigenous women through employment opportunities.
Utilisation of the Yarning with the Stars methodology to understand impact and implement recommendations for program improvements.
Enable the pilot a new evaluation tool, "Outcomes Star".
What worked?
The strong relationships that staff develop with participants, communities, and stakeholders enable the Shooting Stars program to work to decolonise their program practice, policy and evaluation.
Ethics clearance from the Australian Institute for Aboriginal and Torres Strait Islander Studies ensured research methodology was culturally appropriate.
Open, flexible, and curious yarning circles honoured and empowered the communities and the Shooting Stars program.
Key challenges
COVID-19 caused significant challenges, with school closures, and changes to school access and excursion policies. Additionally, staff and participants becoming ill were constant occurrences over project delivery. A flexible approach from Shooting Stars ensured continued delivery of the program in an uncertain environment.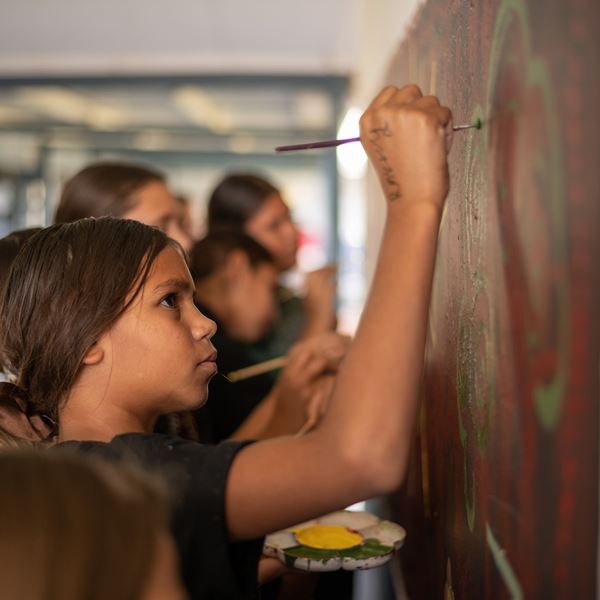 Opportunity
Glass Jar Australia, the organisation that delivers Shooting Stars, identified the need to address the gap between school attendance rates of Aboriginal and non-Aboriginal Australians. Closing the Gap and ABS data show attendance rates for Aboriginal children is lower than non-Aboriginal children, with a significantly lower percentage of Aboriginal women having completed Year 12 in comparison to non-Aboriginal women. Data has also shown the likelihood of women gaining full time employment is nearly three times higher for those who have completed Year 10, versus not completing Year 10.
Based on the outcomes from a 2014 Netball WA pilot in Halls Creek, Shooting Stars secured core funding from the Department of the Prime Minister and Cabinet, and in 2019 was reaching more than 350 girls in seven schools across Western Australia. The early success of Shooting Stars was attributed to its place based, tailored, and co-designed framework. The program was, and still is, guided by Aboriginal women, staffed by Aboriginal women, and for young Aboriginal women. An opportunity for expansion of the Shooting Stars programs into the Goldfields region was identified, to continue to empower young Aboriginal women to improve their education outcomes.
Since then, continued growth has seen Shooting Stars expand to 22 sites across two states, supporting over 1,200 girls from Years 3-12 in 2023.

Approach
Shooting Stars Expansion
The expansion into the Goldfields area was a pivotal step for the organisation, which involved building leadership capacity across Shooting Stars sites. An Operations Manager role was developed to oversee activities, planning, and strategy of the Shooting Stars program, with the aim of increasing Aboriginal and Torres Strait Islander girls' overall wellbeing and participation at school.
The activation of the Leonora and Laverton sites helped Shooting Stars create a motivating and inspiring environment within each school site. This was achieved through embedded Shooting Stars staff, netball training, health and wellbeing sessions, social activities, camps, and a dedicated Shooting Stars room and bus.
As a place-based organisation, it was important for Glass Jar to employ local women who live and work in these communities. This allowed them to deliver a tailored program that met the cultural needs of each specific community.
The creation of a Curriculum Development Officer role allowed the organisation to enhance alignment with the National Curriculum. This role evolved over the delivery of the project into a Regional Manager position for the Goldfields region.
Yarning with the Stars
The Yarning with the Stars project started in 2016 and is a research and evaluation project which was formally and ethically recognised as a culturally appropriate methodology that would:
Evaluate the progress and efficacy of the Shooting Stars program to facilitate continuous improvement.
Enable communities and participants to drive the direction and content of local programs by creating activities that directly influenced outcomes.
Disseminate results of the yarning circle method in order to:

Provide other organisations working in the Indigenous education/youth/sport space with a framework or model for applying Indigenous evaluation methods.
Grow the capacity of Shooting Stars staff and other Aboriginal and Torres Strait Islander women to conduct and drive local research initiatives.
Validate the Shooting Stars yarning method to build the reputation of the program and enhance future funding opportunities.

Challenge the systems and processes which disempower Aboriginal girls and women.
Importantly, Yarning with the Stars has ethical clearance through the Australian Institute of Aboriginal and Torres Strait Islander Studies.
Through yarning circles, staff, participants, and local committee members came together to have a conversation, reach consensus about a particular topic, build relationships, and make decisions. The research included two types of yarning circles: "yarning about yarning", which discussed methods and themes for staff to facilitate yarning, and "all other yarns", which provided a platform for participant, community, and local steering committees to share their ideas, perspectives, and experiences with the Shooting Stars program and a particular "theme".
"A successful young woman has the ability to go far in life, she can rely on herself, she builds strong characteristics in herself, she is self-driven, she sees failure as an opportunity, she does the boring stuff that other people don't want to do, she works or wants to work, she stands up for womanhood, she holds the space for others."
Community definition of 'success'
In this set of yarning circles, Shooting Stars staff, 85% of whom are Aboriginal woman, facilitated discussions with over 230 participants, community members, and localised steering committees to explore the theme of "success". Yarning circles defined success, what a successful young woman looks like, and how Shooting Stars could help to grow successful young women.
Participants in these yarning circles included:
33
Primary school participants from Carnarvon, Derby, Laverton, Leonora, Meekatharra and Mullewa.
126
High school participants from Carnarvon, Derby, Halls creek, Laverton, Leonora, Meekatharra, Mullewa and Narrogin.
73
Other participants including community members, steering committee members, Glass Jar Australia board members and High School leaders.
Data from these yarning circles was analysed in the first half of 2022, with sites then able to implement feedback from participants and communities at the local level.


Impacts and outcomes
Shooting Stars Expansion
Yarning circles held prior to the project started identifying outcomes for the expansion of Shooting Stars into the Goldfields as:
Participants should maintain or improve their school attendance (target minimum 80%).
Participants should maintain or improve a positive attitude towards their education, health and wellbeing, and future.
To empower Indigenous women by increasing the number of Aboriginal and Torres Strait Islander women gainfully employed or undertaking higher education.
To embed the Shooting Stars program in communities, by engaging family, local service providers, and schools in program delivery and reward trips.
Each week, locally based program coordinators analysed participant school attendance data with support from Regional Managers. This real-time tracking and analysis enabled Program Coordinators to identify improvements and provide additional support to individual participants as needed.
In Leonora, Shooting Stars participants achieved an average attendance rate of 70% in 2021 and 67% in 2022, when compared with whole of school average attendance rates of 61% and 49%* respectively for the same two years.
For the same two years in Laverton, Shooting Stars participants had average attendance rates of 78% in 2021 and 58% in 2022, compared to whole of school average attendance rates of 63% and 52%* respectively.
By the end of 2022, the Shooting Stars expansion in the Goldfields employed three full time Indigenous program staff, and one Regional Manager. Supporting both staff and the Shooting Stars program in these locations were local Steering Committees, who provided guidance and input in planning programs and ensuring appropriate input of local and cultural knowledge.
*School attendance data in Semester 1 and Term 3 2022 declined due to impacts of the COVID-19 Omicron variant, high influenza outbreaks, and floods experienced in certain regions across Australia at that time.
Yarning with the Stars
The central objective of the Yarning with the Stars research was to define Shooting Stars program outcomes and achievements, based on participant and community perspectives. The research was undertaken to enable Shooting Stars to understand whether it is empowering Aboriginal girls and women to achieve their own definitions of success. Applying the flexible and collaborative yarning circle method, this research was able to capture authentic responses, not reliant on external influences or leading surveys. For Shooting Stars, it was imperative to honour participant and community definitions of success and let them determine the outcomes.
"A successful young woman is proud, she is proud to be herself, she is proud of her heritage, she is proud of her culture, she is proud of her womanhood, she is kind, she is confident, she is confident in who she is, she is confident in her abilities, she is bold, she knows her worth, she is motivated, she stays humble, she is honest, she is trustworthy, she is comfortable in her own skin, she is consistent, she is vulnerable, she is happy, she is outgoing, she is unique."
Community definition of 'success'

Through Yarning with the Stars, the Shooting Stars team was able to:
Identify four key themes to focus on for participant health and wellbeing sessions – connection to culture, walking in two worlds, care, and leadership.
Implement recommendations for program improvements suggested through yarning circles.
Create a plain language brochure / report to provide parents, caregivers and communities information about Shooting Stars and its impact.
Publish an article in the Australian Journal of Indigenous Studies on the Yarning with the Stars findings.
Create a 2021 – 2024 Strategic Plan for Shooting Stars.
Pilot a new evaluation tool, "Outcomes Star", which measures attributes of success that participants, communities, and steering committees said were important to them, like confidence, contribution, and cultural connection.
Several changes were implemented in response to yarning data through the course of the research. For example, in Halls Creek the Community Group suggested increasing opportunities for Shooting Stars participants to involve themselves in and represent their community. In response to this, Shooting Stars created opportunities for participants to regularly emcee and lead Acknowledgements of Country at community events and school assemblies. Participants were also given the opportunity to get involved in the Halls Creek International Women's Day Community Dinner, take part in Lady Hawkes football team and dance at the opening ceremony of NAIDOC Day.
Another example of changes implemented in real time was in Narrogin, where Shooting Stars staff implemented a rewards program that took an individual approach to celebrating participants' small wins and successes beyond attendance rates at schools. Called the Sparks Program, this initiative encouraged participants to explore their own personal dreams and aspirations, and responded to community feedback that success includes personal growth and achieving goals.
Other outcomes
With relationships developed through the Shooting Stars program, a Cultural Responsiveness Project has been developed in collaboration with Narrogin Senior High School. This project aims to address institutionalised and systemic racism, and cultural safety in schools. Funding is currently being sought to pilot the Cultural Responsiveness Project in schools.
Additionally, the Australian Institute for Aboriginal and Torres Strait Islander Studies Ethics committee has re-approved the Yarning with the Stars project, including the expanded sites, up until June 2025.
Finally, Olivia Slater (Yamatji, Noongar) joined the Shooting Stars research team, in the role of Postdoctoral Research Associate in February 2023. Her thesis confronts the Australian secondary school education system's strategic inclusions and exclusions of Indigenous Australia knowledge, from a critical Indigenous lens.



What worked
Relationships are everything.
The Shooting Stars program is built on the relationships its staff develop with participants, communities, and stakeholders. It is through these relationships that the Shooting Stars program works to decolonise their program practice, policy, and evaluation.
Obtain appropriate ethics clearance.
Shooting Stars got ethics clearance from the Australian Institute for Aboriginal and Torres Strait Islander Studies for the Yarning with the Stars project. This ensured the research methodology developed and implemented was culturally appropriate and supported program aims.
Trust and honour the yarning process.
By delivering open, flexible and curious yarning circles, the Yarning with the Stars project honoured and empowered the communities and the Shooting Stars program together.
Stay open to continued evolution
The organisation and its programs are continuously evolving based on research, feedback, and learnings. A framework formalised with the Australian Childhood Foundation (ACF) in 2022 is guiding a trauma-informed approach, and its implementation is ensuring the provision of support for staff and the development of staff wellbeing.
Key challenges
Keep moving forwards, even with continued COVID-19 challenges.
The most significant challenge for Shooting Stars recently was the impact of COVID-19. Since 2020, school closures, changes to access to schools and excursion policies, and staff and participants becoming ill were constant occurrences. Regardless of this, Shooting Stars continued to turn up, be innovative and flexible. This ensured the continued delivery of a quality program for participants and communities, in uncertain and changing environments.
Rising to the challenges presented by severe floods in the Kimberley
In 2023, severe flooding in the Kimberley due to Ex-Tropical Cyclone Ellie brought several challenges to communities in the area. Damage to the 10km Willare Crossing of the Fitzroy River on Great Northern Highway, as well as Fitzroy River Bridge and 500m of road led to the isolation of communities and significant disruptions to transport. This meant some staff and students were unable to reach their schools and Shooting Stars sites. The team showed strength and resilience, adapting and rising to these challenges while supporting one another.
Additional links and resources
Want to learn more about this case study? Find related resources in this section.
Shooting Stars program webpage

Journal of Sport for Development article: Yarning with the Stars Project: An Indigenous evaluation protocol for a sport for development and peace program

The Australian Journal of Indigenous Education article: Western Australian Aboriginal young women and community representatives identify barriers to school attendance and solutions to school non-attendance
Acknowledgement of Country
The Western Australian Community Impact Hub acknowledges and pays respect to the Traditional Owners of the land on which we are based, the Whadjuk people of the Noongar Nation and extends that respect to all the Traditional Owners and Elders of this country. We recognise the significant importance of their cultural heritage, values and beliefs and how these contribute to the positive health and wellbeing of the whole community.