BACK
Learning snapshot
101 | Community collaboration – the glue that makes change sticky.
When an organisation strives to make a positive impact on their community, it stands to reason that the community itself should be involved in that process. The intentional inclusion of real time, on ground community inputs can add two essential ingredients to a community-based project – stewardship and 'stickiness'.
01 March 2023
Community collaboration
When an organisation strives to make a positive impact on their community, it stands to reason that the community itself should be involved in that process. While the organisation might have access to data and research that illustrate areas of need, the intentional inclusion of real time, on ground community inputs can add two essential ingredients to a community-based project – stewardship and 'stickiness'. 

For most community initiatives, it could be assumed that the goal is to see a project, program or initiative thrive into the future, and to create long lasting impact or 'sticky' change (change that is persistent and enduring). Having a community around a project that feels a sense of shared responsibility for its carriage can be key to ensuring that the change sought 'sticks', and that once the excitement of initiation dies down, the community impact remains. 


One of the many ways to enable this 'stickiness' is to commit to authentic community collaboration, through all stages of project planning and delivery. But here we must make a key distinction that differentiates collaboration from consultation.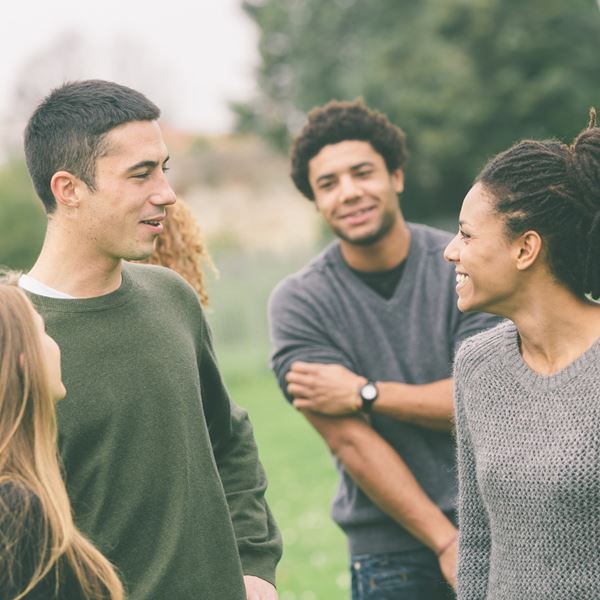 Consultation vs collaboration – an important distinction 
Community consultation and community collaboration are both methods for involving community members in the decision-making process, but they have different approaches and goals. 

Community consultation typically involves informing community members about a proposed project or decision and seeking feedback or input. The focus is on providing information and hearing from the community, but the ultimate decision-making power remains with the organisation or group leading the consultation. 

Broadly speaking, community collaboration, involves working with community members as equal partners in the decision-making process. The goal is to co-create solutions that meet the needs and goals of both the community and the organisation or group leading the collaboration. This approach requires more time and resources, but it can lead to more sustainable and effective outcomes. 

While consultation is key to gathering data to ensure a project or program is effectively supported, community collaboration has the value add of bringing together individuals, groups, and organisations from a specific community to work towards a common goal. This empowers the community itself to be part of the change.  

Authentic engagement is an essential component of community collaboration because it helps to ensure that the perspectives and needs of all members of the community are considered. This is particularly important when developing community projects for social impact, as key to a well-designed project is making sure community need is thoroughly understood and widely socialised.

Intentional collaboration can be beneficial for a range of reasons, including the ability to pool resources, share knowledge, and create a sense of ownership and investment in the community. One key aspect of community collaboration is the engagement of a diverse group of stakeholders, to bring together multiple perspectives who might have a vested interest in the outcome of a project or initiative. 

It can't always be assumed that because a community need is observed by an organisation, it will necessarily be recognised as a need for change by the community itself. Similarly, the benefits of the proposed change might not be immediately obvious to the community. Authentic and responsive engagement gives an organisation the opportunity to build an impact narrative that not only engages its community but puts them at the centre of the story; as owners, active participants, and beneficiaries. 
Collaborative groups and co-design 
Collaborative groups can be small, and limited to a specific community of interest, or highly diverse and multi-layered. They might include representatives from government, business, and community organisations, as well as groups or individuals who are directly impacted by the project or initiative. By engaging stakeholders early in the planning and implementation process, community collaboration efforts can be more inclusive, responsive, and effective. 

Co-design is an important aspect of community collaboration. Working with community members to co-create solutions and decisions that will impact their lives can be helpful for designing effective projects. Additionally, it can be transformative, often giving the community opportunities to take an active role in creating change that might not ordinarily be afforded to them.  

There are a broad range of methods, such as workshops, focus groups, and online platforms, that might be employed in a collaborative setting. Involving community members in the design process can help to ensure that solutions are tailored to the unique needs and circumstances of the community. 


Advocacy leads to empowerment 
Advocacy is another important aspect of community collaboration. This can involve working with community members to raise awareness about issues and to advocate for policies and programs that will benefit the community. Advocacy can also involve working with decision-makers and policymakers to educate them about the needs and priorities of the community.  

For many community organisations, advocacy is a fundamental part of the work they do to create lasting change. However, often organisations forget to take advantage of a key conduit for that advocacy – their own community. While policy change can be achieved when individual organisations advocate for change, having the support of an active collective can amplify the importance and immediacy of that change in the eyes of decision-makers. By engaging community members in advocacy programs, they can play an active role in shaping the policies and programs that affect their lives. This leads to arguably the most important aspect of community collaboration - empowerment. 

Genuine empowerment is a key aspect of community collaboration. It helps to ensure that community members have the knowledge, skills, and resources they need to participate fully in the process and to make informed decisions. A level of empowerment can be achieved through education and training, as well as by providing access to information and resources.  

However, genuine empowerment also involves enabling agency for community contributors, giving them both the means and the permission to be active in the outcomes of an initiative. For some organisations this might seem like an act of devolving control, and therefore a business risk. But when managed well, empowering community members can make community collaboration efforts more effective and sustainable, providing the scaffolding to achievement of impact for the initiative and, ultimately, the organisation. 
Collaboration leads to 'stickiness' 
Community collaboration is an important approach for addressing both local and global issues and challenges. While any organisation can create a project or program, to make outcomes 'sticky' involves a dynamic balance of active engagement with the community for whom the project is designed, and the partners and stakeholders who can best support and facilitate the aims of that community in the long term. 

It is essential to understand that community collaboration is a process that requires ongoing engagement, communication, and support. Community collaboration is not a one-time consultative activity, but an enduring commitment to sustained change.  

By engaging stakeholders, co-designing solutions, proactively advocating for enabling policies, and empowering community members, community collaboration can help to build stronger, more resilient communities and create lasting impact.  
Author: Melanie Bainbridge

Melanie Bainbridge is a writer, sustainability professional, multi-arts professional and social impact advocate. Mel melds 20+ years of strategy, policy, project management and community engagement experience with communications and creative development skills to create inspiring impact narratives. Melanie is currently Senior Manager Knowledge & Insights, Lotterywest.
1
Acknowledgement of Country
The Western Australian Community Impact Hub acknowledges and pays respect to the Traditional Owners of the land on which we are based, the Whadjuk people of the Noongar Nation and extends that respect to all the Traditional Owners and Elders of this country. We recognise the significant importance of their cultural heritage, values and beliefs and how these contribute to the positive health and wellbeing of the whole community.