BACK
Learning snapshot
101 | The importance of knowledge management for community organisations
For the changemakers in our community, time, people, and especially knowledge are some of the most valuable organisational assets you can have. In this article, we will explore organisational knowledge management, and how organisations can put in place effective management practices.
10 July 2023
What is knowledge management?
For the changemakers in our community, time, people, and especially knowledge are some of the most valuable organisational assets you can have. In this article, we will explore organisational knowledge management, and how organisations can put in place effective management practices.
All organisations use knowledge for different purposes, and acquire, organise and share knowledge in different ways. In general terms there are three broad types of knowledge that an organisation might generate within its operational control.
Explicit knowledge: knowledge that is easy to access, document and share.


Implicit knowledge: knowledge gained from the application of explicit knowledge.


Tacit knowledge: knowledge gained from personal experience, which is often informal, and less easily captured, documented or shared.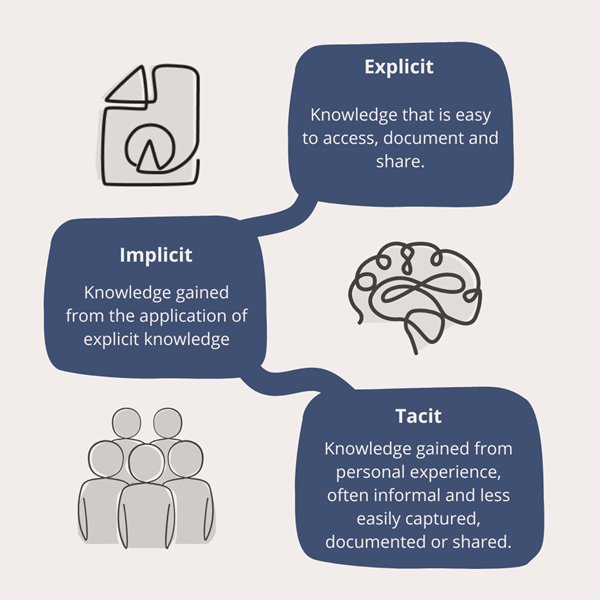 The best way to make the most of existing resources, is through effective organisational knowledge management. This includes practices that help capture, store, and share knowledge within an organisation, efficiently.
Knowledge management can be applied as a broad practice that encompasses whole-of-organisation needs, or as a more streamlined process applied to a specific project or system.


Why is knowledge management important for community organisations? 
For community facing organisations, including the not-for-profit and local government sectors, the importance of effective knowledge management cannot be overstated.
Many organisations within these sectors face unique challenges such as limited resources, high staff turnover, and the need to adapt to changing social, environmental, and political landscapes.
When an organisation can easily access, share, and synthesise knowledge, it can increase resilience and productivity and reduce loss of corporate capability, and inefficiency. The ability to access and share the right knowledge at the right time informs evidence-based decision-making and stimulates collaboration and innovation. 
Unfortunately, not all organisational knowledge is 'obvious', and much of it relies on the capture and sharing of information that resides in the minds of staff and stakeholders (tacit knowledge), but this information is vital to the efficient functioning, and sustainability of an organisation. 
Effective knowledge management practices can help organisations overcome these challenges by ensuring that valuable knowledge and expertise is retained within the organisation, rather than being lost when a staff member leaves or when project funding ends.


What are the key principles of knowledge management? 
While applying new concepts and processes can often seem daunting in the face of other priorities, organisational knowledge management is not a new idea. In fact, it has been around for decades and is used by organisations of all sizes and sectors.
There is no 'one-size-fits-all' system for knowledge management, but there are some key, simple principles that apply universally.
For the purposes of simplicity, we will explore three key knowledge management principles – knowledge acquisition, knowledge organisation and knowledge sharing. 
Knowledge acquisition focuses on seeking, capturing or creating knowledge, which might come from various sources. As knowledge is acquired, its application and meaning for the organisation must be understood to identify the best medium/s for sharing.


Knowledge organisation focuses on structuring and storing knowledge in such a way, and in such a space, that it can be easily accessed and applied by those for whom it is valuable. This requires an understanding of what the knowledge will be used for, by whom, when and how.


Knowledge sharing focuses on engagement and knowledge dissemination and can include anything from formal training and communications to simple conversation between colleagues. 
How do we make knowledge management work for us?

 
Acquire it!
Firstly, an organisation needs to identify the knowledge it already holds. This is sometimes called an organisational knowledge inventory and can collect and collate any type of knowledge, from experience-based insights captured from staff members to intellectual property and data-driven analysis.
Knowledge can be acquired via various methods, such as conducting interviews with staff members, reviewing past projects and reports, or analysing data from surveys or customer feedback. Once this knowledge has been identified, it needs to be captured and stored in a way that is accessible and easily searchable by staff members so that they can best use those insights.
Organise it!
The storage of knowledge can take many forms, depending on the size and complexity of the organisation. It might be as simple as a shared document, spreadsheet, or cloud-based storage system, or as sophisticated as a knowledge management system that includes content / records / customer management systems, complex databases, wikis, and collaborative tools. The key is to ensure that the knowledge is organised in a way that is safe, secure, intuitive and user-friendly, so that staff members can quickly find the information they need, and also understand any sensitivities or privacy concerns that information might contain for organisations or citizens.
Share it!
Capturing and storing knowledge is only half the story. To truly reap the benefits of knowledge management, organisations need to foster a culture of sharing and collaboration. This means encouraging staff members to contribute their knowledge and expertise and providing meaningful opportunities for them to learn from one another. This can be done through various means, including regular staff meetings, cross-functional project teams, or training sessions.
Creating a Culture of Knowledge Sharing 
One of the other 'keys' to ensuring that knowledge is valued and shared across an organisation is culture. To create a culture of knowledge sharing, organisations might want to consider: 
How to create a safe environment to share knowledge: Fostering a culture in which staff and stakeholders are comfortable and supported to share knowledge freely and have appropriate strategies and spaces through which they can do so. 


How to recognise and support good practice in knowledge creation, organisation and sharing: Encouraging staff and stakeholders to create and share knowledge by recognising contributions and sharing examples of good practice in knowledge management.


How to create simple, repeatable processes to create, organise and share knowledge: Implementing simple tools and tactics that allow knowledge to be easily accessed, applied and shared.

Creating a culture of knowledge sharing can also help break down silos within organisations, allowing staff members to collaborate more effectively across departments and functions. This can lead to increased innovation, better decision-making, and a stronger sense of community within the organisation.
A well-executed knowledge management process should align with an organisation's vision, mission and strategic objectives.  It should also act as a framework for balancing people, processes, and technology to build capability and collaboration.  
Fostering a knowledge-sharing culture creates an adaptable, aligned, engaged and resilient organisation by:  
Simplifying systems and processes employed to acquire, organise and share information. 
Reducing duplicate and outdated information. 
Ensuring consistency and comparability of information. 
Enabling analysis and meaningful insight building.
Enabling informed, agile, evidence-based decision-making. 
Preventing knowledge silos through a culture of transparency and communication.
Enabling effective collaboration.
At the end of the day, knowledge management is all about making the most of what we have. By capturing, storing, and sharing knowledge effectively, organisations can ensure that the data and insights they need to evidence their work are available and accessible, and that the organisation feels confident in sharing their impact narratives.
Additional links and resources
Want to learn more? Find related resources in this section.
Author: Melanie Bainbridge

Melanie Bainbridge is a writer, sustainability professional, multi-arts professional and social impact advocate. Mel melds 20+ years of strategy, policy, project management and community engagement experience with communications and creative development skills to create inspiring impact narratives. Melanie is currently Senior Manager Knowledge & Insights, Lotterywest.
1
Acknowledgement of Country
The Western Australian Community Impact Hub acknowledges and pays respect to the Traditional Owners of the land on which we are based, the Whadjuk people of the Noongar Nation and extends that respect to all the Traditional Owners and Elders of this country. We recognise the significant importance of their cultural heritage, values and beliefs and how these contribute to the positive health and wellbeing of the whole community.